Your hungry pet should eat slowly in order to make sure its food digested well. In addition, a pet especially dogs tend to eat in a rush when they feel hungry. The slow feed bowls for dogs will aid your dogs to eat slowly.
According to several sources like Petsmart eating with slower pace diminish air intake will prevent bloat and improves the dog's digestion. The slower eating pace will prevent indigestion and gulp for dogs. Here are several samples of best bowls to enhance your dog's health.
Slow Feed Bowls for Dogs Increasing Your Dog's Health
1. Company of Animal's The Green Slow Feeder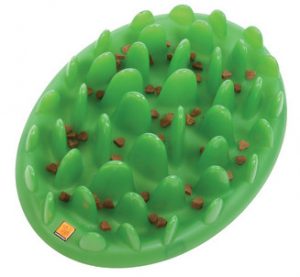 The green slow feeder makes your pet eating time as an exciting game. The pin-like bowl will prolong the eating time. The green slow feeder diminishes the risk of dog's gas and vomiting. The main advantage of this slow feeder is decreasing the bloat risk for your lovely dog. The company creates the product to be easy to maintain which you can place it in your dishwasher. It features "dishwasher-safe" for a cleaner result.
2.  Slow Feed
Realizing the dog playing time is precious. Kyjen makes a slow feeder that plays a role that makes the feeding time of your dogs is fun. The maze and patterns are applied on the slow feed bowls for dogs will help your dog eat slowly and maintain its digestion. This Slow feed Kyjen 51006 makes its milestone over a million sales due to its great quality.
3. Trixie Small Slow Feeder No Gulp
If you prefer the maximum usage and quality but simple design, you have to look for this futuristic bowl. The simple design with pointed out nodules will make your dog eating speed slower. It will reduce the chance of bloating and gulping for your dog. With an affordable price, this slow feeder is not ignoring the healthy aspect of your hungry dog.
4. The Maze in Bowl Slow Feeder
It is designed to make your dog eat slowly while enjoying their play time. The unique pattern design of slow feed bowls for dogs makes a certain amount of food go further and makes the dog enjoying their food for both wet or dry food. The maze in the bowl is created from high-quality materials. It is made from bamboo fiber and rice husk which is grants a hundred percent possibility to be recycled easily. This slow feed bowl will promote your dog's meal time more natural and fun time. Therefore, utilizing this kind of bowl will promote dog's healthy and fun.
5. Caldex Classic Stainless-Steel Slow Feeder
The simple thing and durable enough slow feeder could you get from this feeder. The Caldex Classic is equipped with hump feature which is useful to stop your pet from eating too fast. Even this feeder is made from stainless-steel, it is not easy to be slipped and easy to be cleaned. The maintenance of this slow feeder is quite easy, you can clean it with a dishwasher.
That's all about 5 best slow feed bowls for dogs that you can utilize for your dogs. You can choose from those 5 options in order to maintain your dog's health aspect and digestion system. Pick one of those bowls that suit your needs for your dog.