Seeing the dogs eat greedily makes us feel guilty, somehow. The reason why it did so is so unpredictable. It can be caused by the competition among the pets or even because the poor quality of the food that not satisfying itself. Thus, how to deal with this kind of dogs? You only need to have bowls for dogs that eat too fast. We usually called as Slow Feeder Pet Bowl.
In case of understanding why we should stop our dog eat faster, you better know the effect of eating faster in a pet before. It can cause the bloat, vomiting, and other digestion problem.
Here is the snap of top 5 slow feeder dog bowls for 2017!
1. Green Slow Feeder – Company of Animals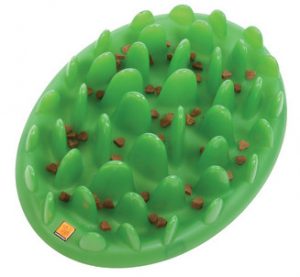 It is the most interactive bowls for dogs that eat too fast so far. This green dog bowl works by stimulating your dog's mental with simply scatter its desired amount the food.
Design:     It was designed to be a mimic grass. So the food will be put between the blades and your dog will be automatically slow down.
Material: It is BPA free plastic. Moreover, they are also dishwasher friendly.
Size: The company has been designed this bowl to be more friendly for every kind of dog or cat. It's just suitable for the small dog or even for the large breed dog.
Cons: The 'grass'/'Blades' a little bit too high. So the short nose dog is difficult for taking an access.
2. Trixie – "No Gulp" Small Slow Feeder

Who doesn't know about the bowls for dogs that eat too fast from this brand? Actually, they are already famous with their traditional slow feeder and still be the costumer's favorite.
Design: The bowl has 3 nodules inside which will stimulate the pet to be slower while they are eating.
Material: It was made from plastic. Unfortunately, there is no confirmation yet about using a BPA free Plastic or not.
Size: The manufacturer provides 3 different sizes.
Cons: They are too lightweight so they move around easily. Another cost of this thing is the material is thin and easy to be chewed by the dog itself.
3. Kyjen 51001 – Large Orange Fun Feeder

Other kinds of bowls for dogs that eat too fast from Kyjen 51001 promised to keep your dog interest as they eat in a slow eat way.
Design: They have an attractive coral design and colorful. For the color itself, they provide 3 different bright colors which are very helping on encourage the pet mood. Especially, when they still in the transition phase to be a slower eater. The coral design prevents bloating and canine obesity for the dog.
Material: They are genuinely safe. This fun feeder was made with high-quality and food-safe ABS plastic which is free of BPA, PVC, and Phthalate. Moreover, they are top-rack dishwasher friendly.
Size: They are available in 2 different sizes. So all the fast eaters can have some fun with their food.
Cons: The complicated design may be stuck the food inside. But so far, it is effective bowls for dogs that eat too fast option.