When your dog eats too fast, you should worry! Eating too fast can result in obesity, bloat and another bad disease that puts your dog in danger. There are several ways to teach the dog to eat in pleasure. One of them is dog food bowls to slow down eating.
Understanding Why Does a Dog Eat Too Fast?
Some dogs might think that eating is a competition. Your furry friend might think someone or another dogs or pets could steal the food. The only way to keep its food is by eating a high speed; gulping the food and water all at once. Besides, some dogs eat too fast due to the health condition. The digestion problem can be the main result. Your dog might feel too hungry and need nutrients soon to freshen its body. Additionally, the food might not satisfy enough which means poor quality.
Best Dog Food Bowls to Slow Down Eating:
1. Trixie Small Slow Feeder No Gulp Dogs Plastic Bowl Pet Food
The first factor to consider before buying a dog bowl is thinking about the design. Most dog feeders come in complicated barriers which mean troubles the dog to eat.  The most pet will flip over the food instead of eating it due to this case.
Hence, the Trixie dog bowl is designed modestly with its ability to reduce to dog's eating speed. This is claimed to prevent bloat and improve the digestions.
Cons:
Some of you might concern about the material. This bowl is made of plastic which can make you think twice before buying it.
2. Outward Hound Fun Feeder Slow Feed Interactive Bloat Stop Dog Bowl
It is one of the most popular product you will find on Amazon with a spiral barrier. It takes the spotlight with over 1 million products have been sold. The design is nice and fun and proven to slow down the eating speed. It is produced with two sizes which include a 4-cup and 2-cup sizes. Both bowls are great for raw, wet and dry food. Additionally, it is dishwasher free and free of germs.
Cons:
Apart from the excellent features, the bowl is difficult to be cleaned by hand wash due to its spiral design. Overall, this works well if you clean it using the dishwasher.
3. Northmate Interactive Feeder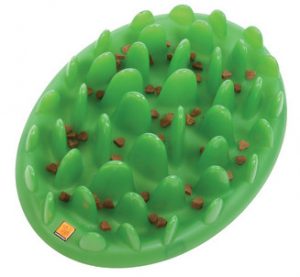 The last dog food bowls to slow down eating is from Northgate. This is designed with fun barriers that turn the bowl into a challenging game. This is said to be the one that has been successfully slowing down the dog eating speed and reduce the bloat risk. Besides, you can clean it using the dishwasher. It is a great pet dish that stimulates dogs mentally.
Cons:
Some cats cannot reach the food due to its design. It works much better for little dogs like Chihuahua or Pomeranian.
That's all our short review about the dog food bowls to slow down eating. Keep in mind that not all pet dish has all features you want. Just be careful and check the features before purchasing the product.