Finding the right metal slow feeder dog bowl is difficult. You probably only find the one with simple maze inside. But the problems is that the bowl is not for a heavy duty, which means your dog has a tendency to flip over it and spill the food. So that's why the metalslow feeder dog bowl would not help you that much.
Anyway, if you are the pet parents who concern about pups' health, this list should help you.
1. OurPets DuraPet Slow Feed Premium Stainless Steel Dog Bowl
Pros:
It is a premium heavyweight stainless steel  that is designed to slow down your dog eating speed. It is claimedcan improve the digestion system and helps prevent bloating. This bowl can hold up to 8-cup of dry food with 11x11x2.6-inch dimension.
Cons:
The no-slip buttom often frustating.
2. Slow Feeder Bowl with Food Water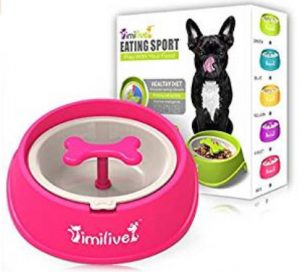 Pros:
There is one thing that the bright colors. It is completed with 360 spin bone. The bowl has 7.9×7.48×2.7 inches with rust resistant feature. This metal slow feeder dog bowl gives your room another touch with colorful design. The strenght is good to prevent the pets biting the bowl. With bone  accent, the pet simply will make it as a playful toy while it can use it as a dish. Therefore, many customers are satisfied when they are asked about the dog's eating speed.
Cons:
Consumers are very disappointed for the light weight model. The dog often flips the bowl easily so it will always leave spill.
3. Iconic Pet Slow Feed Stainless Steel Pet Bowl for Dog or Cat
Pros:
It is not only for the dog, but also your cat as well. The bowl is equipped with anti-skid rubber ring so it provides good stability. Besides, it is dishwasher safe and hand wash rubering.
Cons:
Some customers complained that anti skid that was wore off in just a week.
4. ProSelect Dog Stainless Steel Brake-Fast Slow Feed Bowl
Pros:
The product is claimed can reduce bloating and slow down the dog's eating speed. It works with canned food and dishwasher safe.  The best thing to underline is the venetarian label of recommendation so you now have less worries about its hygiene. The bowl comes in three size; 1,5 cups, 5 cups and 8 cups. It is a perfect item with simple obstacles inside so cannot damage the dog's teeth.
Cons:
Apart from the strenght we mentiones, it develops nasty smell so some dogs might not like it very much. Besides, some customers complained about the water residue after cleaning which can lead to bacteria build up.
That's all our quick recaps about the metal slow feeder dog bowl. Some products might steel have issue, but as you concern with the main feature that meet your dog's need, those are the perfect items for us. If you have another products to recommend, drop them on the comments section bellows. We are helped to know other great products!